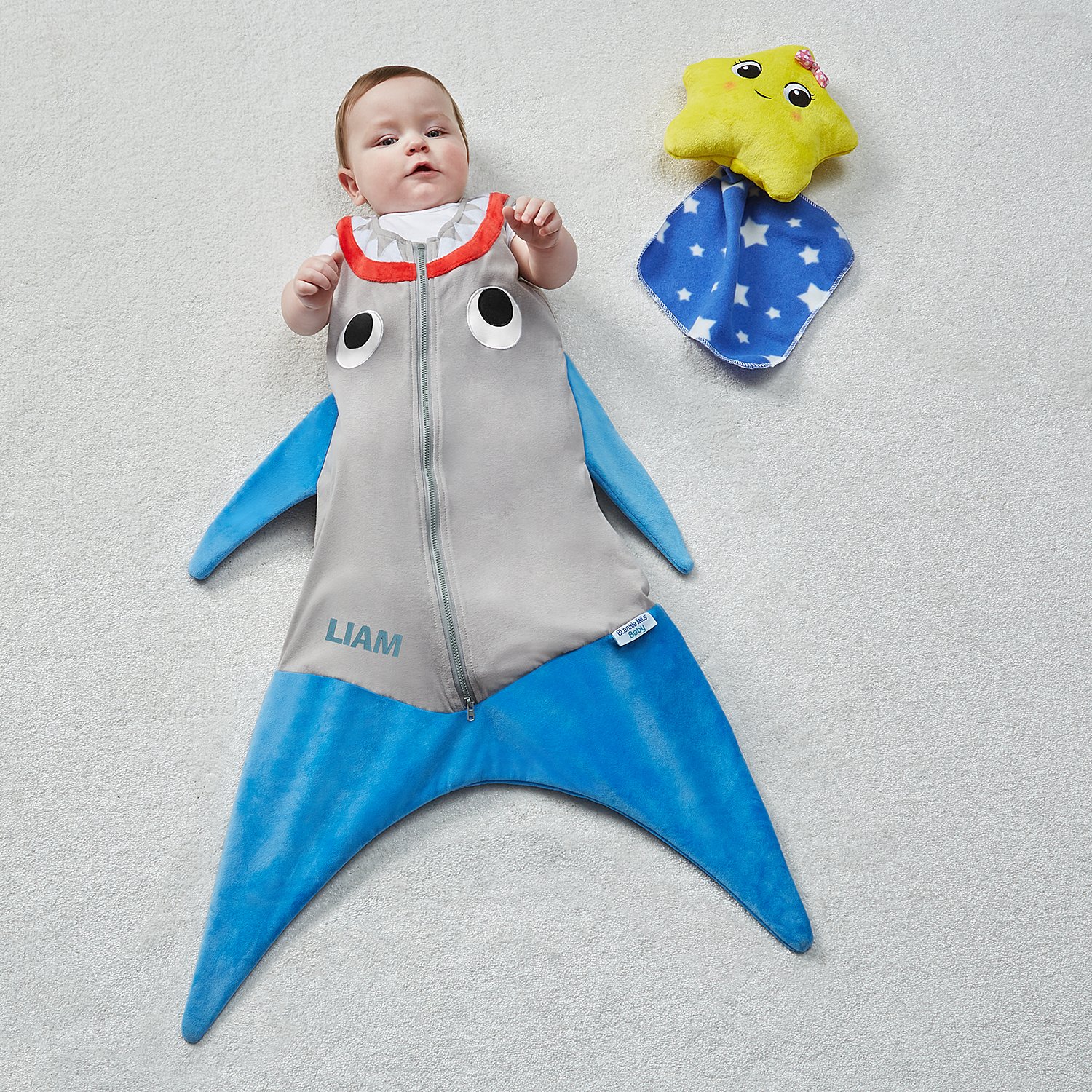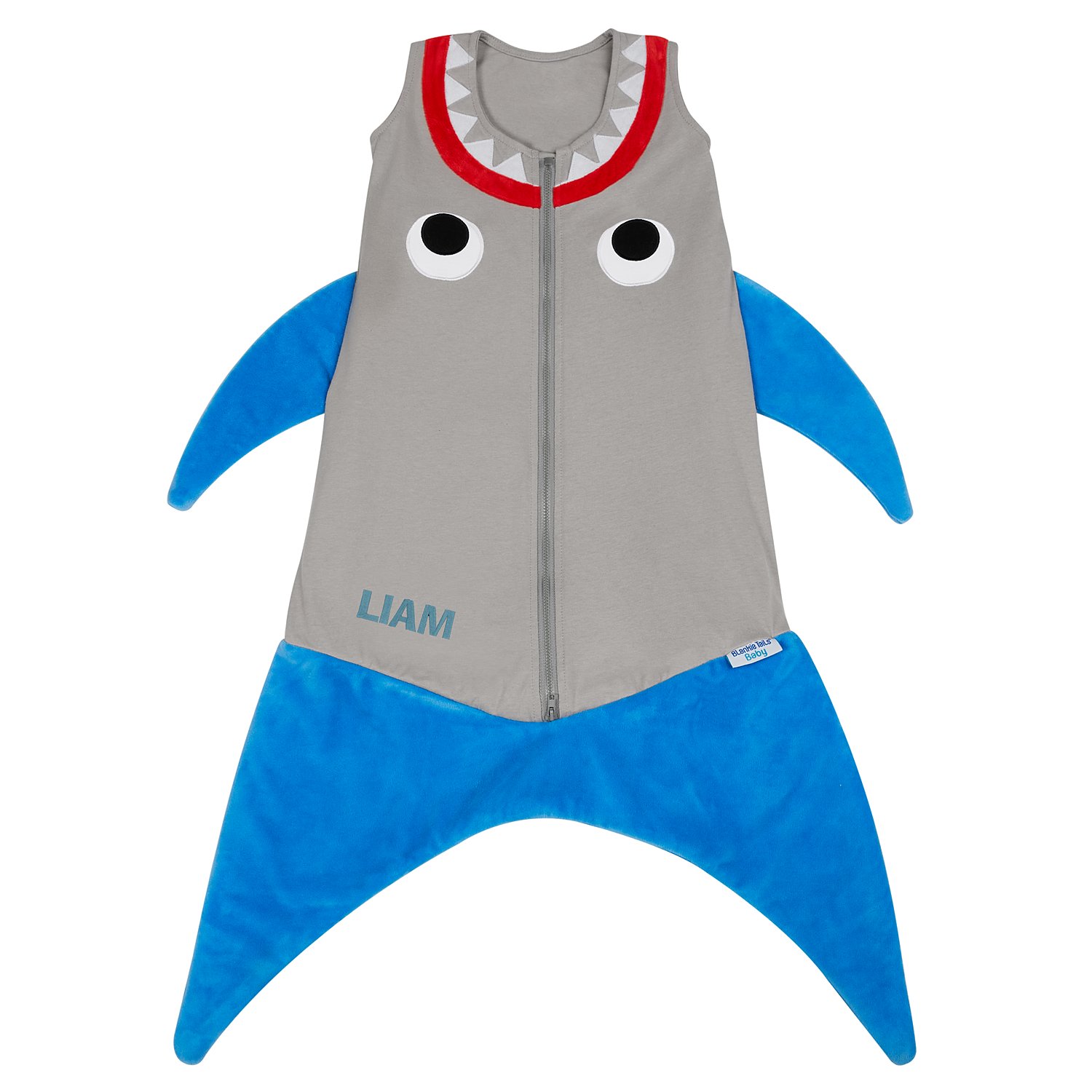 Blankie Tails® Baby Shark Personalized Cuddle Blankie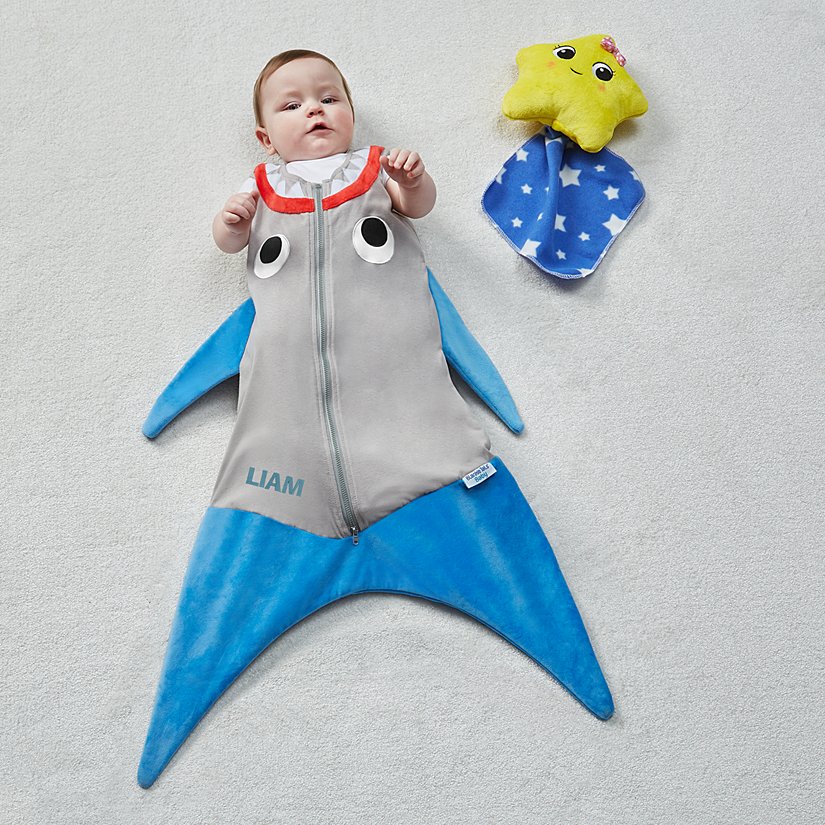 Product Description
Your little shark will joyfully swim for hours in this ultra-soft blankie. Perfect for snuggling, naptime and adorable photo opportunities!
Personalize by adding a name with up to 12 characters
Made of high-quality 100% cotton, featuring velvety soft velour accents and embroidery
Innovative design includes an inner sack for baby's hips and legs to move freely, while the outer design adds playfulness and fun
Arm and neck openings are sized for a secure fit, and the wearable design safely replaces loose blankets that could cover the baby's face
Inverted zipper allows for easy and efficient late-night diaper changes
Eye embroidery serves as a reminder to caregivers to place babies on their backs for sleep
Available in small size, suitable for newborns to 6 months, measuring 23 to 26" long and 10 to 18 lbs.
Machine washable
Blankie Tails® Baby Shark Personalized Cuddle Blankie
PERFECT GIFT GUARANTEE Your personalized gift or home decor item is guaranteed to delight! We'll make sure you're 100% satisfied, or your money back.
Your little shark will joyfully swim for hours in this ultra-soft blankie. Perfect for snuggling, naptime and adorable photo opportunities!

Personalize by adding a name with up to 12 characters
Made of high-quality 100% cotton, featuring velvety soft velour accents and embroidery
Innovative design includes an inner sack for baby's hips and legs to move freely, while the outer design adds playfulness and fun
Arm and neck openings are sized for a secure fit, and the wearable design safely replaces loose blankets that could cover the baby's face
Inverted zipper allows for easy and efficient late-night diaper changes
Eye embroidery serves as a reminder to caregivers to place babies on their backs for sleep
Available in small size, suitable for newborns to 6 months, measuring 23 to 26" long and 10 to 18 lbs.
Machine washable