Multilingual Love Personalized Bangle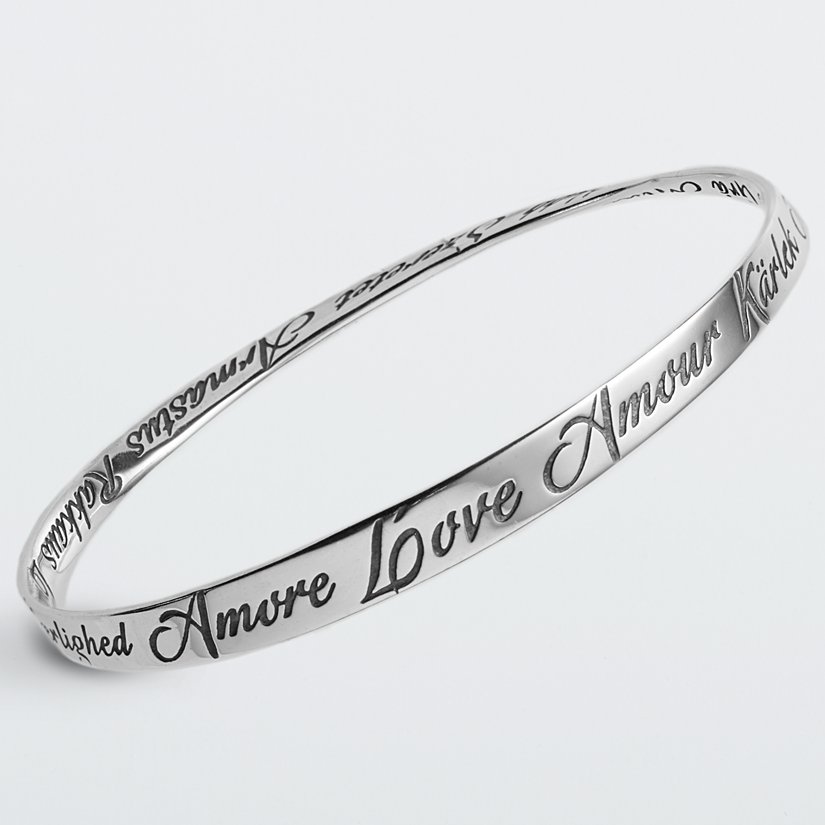 Product Description
The Möbius band, with its unique surface and infinite elegance, is a mathematical wonder in itself. Embellished with expressions of love in 28 languages, it signifies a never-ending romance.
Crafted of sterling silver
Love is inscribed in Arabic, Catalan, Chinese, Czech, Danish, Dutch, English, Esperanto, Estonian, Finnish, French, German, Gaelic, Hebrew, Hungarian, Japanese, Italian, Latin, Latvian, Lithuanian, Norwegian, Polish, Portuguese, Russian, Spanish, Swahili, Swedish and Turkish
Measures 7-7/8" in diameter
Multilingual Love Personalized Bangle
PERFECT GIFT GUARANTEE Your personalized gift or home decor item is guaranteed to delight! We'll make sure you're 100% satisfied, or your money back.
The Möbius band, with its unique surface and infinite elegance, is a mathematical wonder in itself. Embellished with expressions of love in 28 languages, it signifies a never-ending romance.

Crafted of sterling silver
Love is inscribed in Arabic, Catalan, Chinese, Czech, Danish, Dutch, English, Esperanto, Estonian, Finnish, French, German, Gaelic, Hebrew, Hungarian, Japanese, Italian, Latin, Latvian, Lithuanian, Norwegian, Polish, Portuguese, Russian, Spanish, Swahili, Swedish and Turkish
Measures 7-7/8" in diameter