Paw Print Personalized PopSockets PopGrip®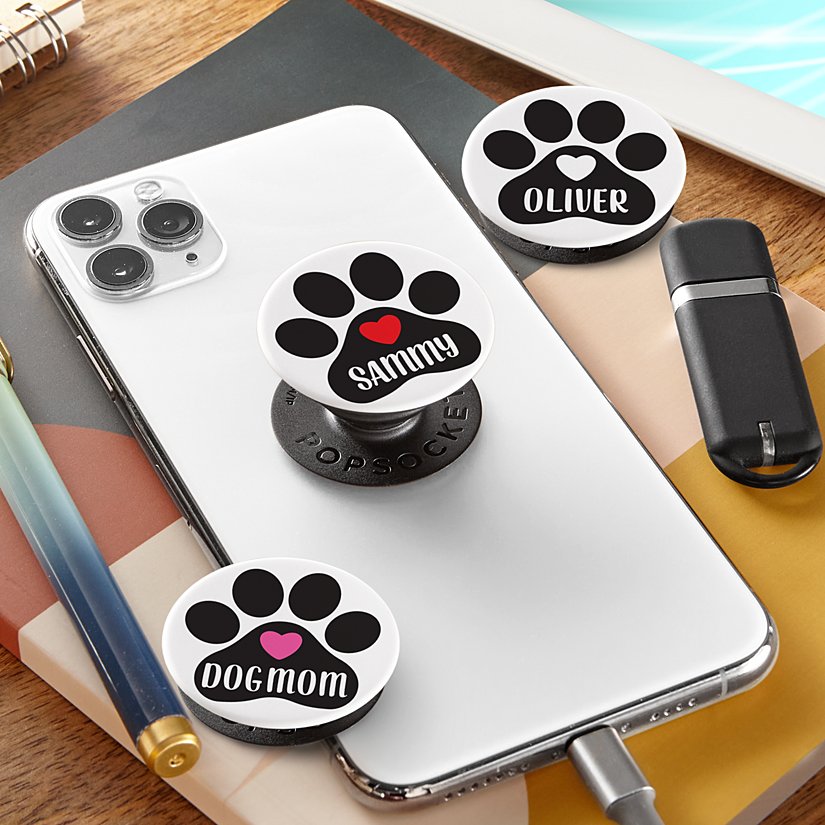 Product Description
Pause for a moment and consider your most loyal, furry companion. This paw print PopSockets PopGrip is a charming accessory for any pet lover.
Personalize with a 1-line message (up to 12 characters)
Made of thermoplastic material and featuring acrylic foam adhesive
Measures 1.5" dia.
Provides a secure grip for one-handed texting, enhanced photo snapping, and hands-free video watching
Doubles as a convenient hands-free stand
Re-positionable and adheres to most devices and cases; best suited for smooth hard plastic cases; may not adhere to silicone or waterproof cases
Compatible with all smartphones; a case is required for iPhone 11 Pro and iPhone 11 Pro Max
Wireless charging compatible
Select from pink, red or white heart options
Recommended for ages 13 and up
Paw Print Personalized PopSockets PopGrip®
PERFECT GIFT GUARANTEE Your personalized gift or home decor item is guaranteed to delight! We'll make sure you're 100% satisfied, or your money back.
Pause for a moment and consider your most loyal, furry companion. This paw print PopSockets PopGrip is a charming accessory for any pet lover.

Personalize with a 1-line message (up to 12 characters)
Made of thermoplastic material and featuring acrylic foam adhesive
Measures 1.5" dia.
Provides a secure grip for one-handed texting, enhanced photo snapping, and hands-free video watching
Doubles as a convenient hands-free stand
Re-positionable and adheres to most devices and cases; best suited for smooth hard plastic cases; may not adhere to silicone or waterproof cases
Compatible with all smartphones; a case is required for iPhone 11 Pro and iPhone 11 Pro Max
Wireless charging compatible
Select from pink, red or white heart options
Recommended for ages 13 and up