Commemorative Anniversary Personalized Vase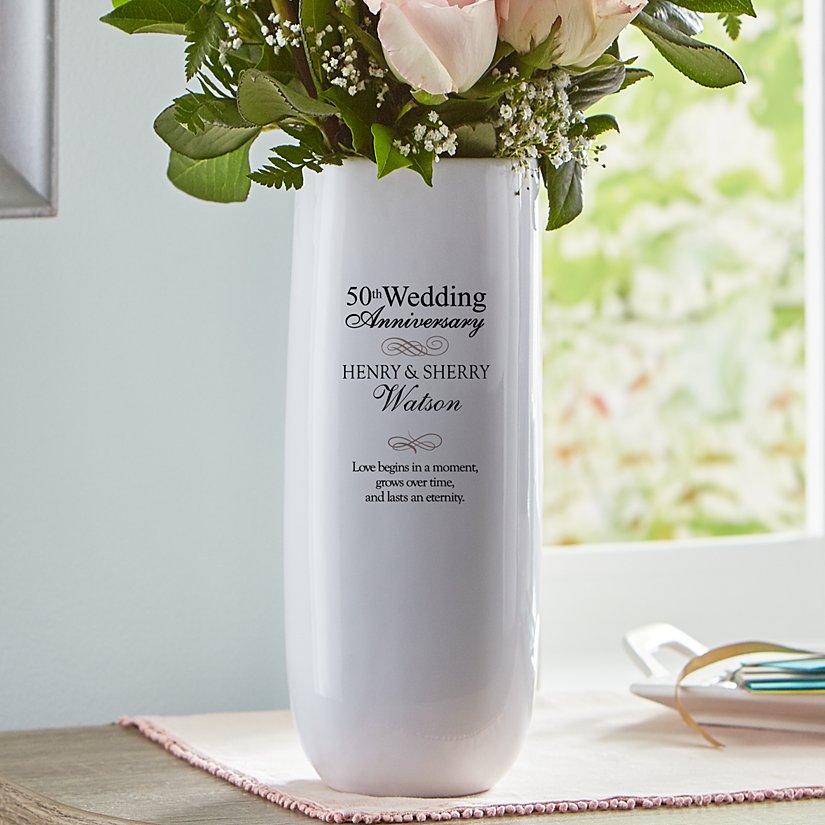 Product Description
For couples marking years of togetherness, this elegant vase presents a stunning way to display a gorgeous bouquet and their everlasting love.
Personalize with any anniversary year, 2 names (10 characters each max.), and a last name (up to 12 characters)
Crafted of fine porcelain
Dimensions: 4.44" Dia. x 10"H
Flowers not included
"Wedding Anniversary," and "Love begins in a moment, grows over time, and lasts an eternity" will always appear
Commemorative Anniversary Personalized Vase
PERFECT GIFT GUARANTEE Your personalized gift or home decor item is guaranteed to delight! We'll make sure you're 100% satisfied, or your money back.
For couples marking years of togetherness, this elegant vase presents a stunning way to display a gorgeous bouquet and their everlasting love.

Personalize with any anniversary year, 2 names (10 characters each max.), and a last name (up to 12 characters)
Crafted of fine porcelain
Dimensions: 4.44" Dia. x 10"H
Flowers not included
"Wedding Anniversary," and "Love begins in a moment, grows over time, and lasts an eternity" will always appear