Deluxe Leather Personalized Travel Jewelry Case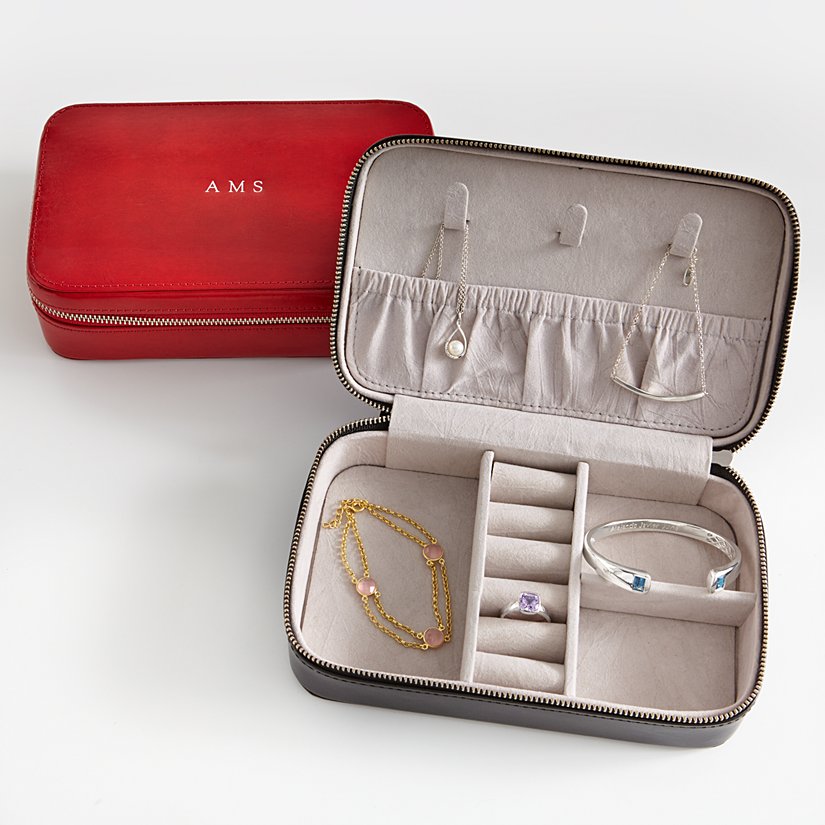 Product Description
Embark on your journey with your precious items in ultimate luxury. This authentic leather case provides an array of clever storage features, ensuring your smallest valuables remain safe, secure and well-organized. A refined accessory indispensable for every woman on the go. Meticulously handcrafted by Royce Leather New York, a family-owned company renowned for using the finest leather and exceptional craftsmanship.
Personalize by adding a 1 to 3 letter monogram in silver, gold or embossed
Crafted from genuine leather with a gray velvet interior
Dimensions: 4-5/8"W x 2-1/8"H x 7.5"L
Interior includes 3 compartments, a dedicated ring section, 3 hooks, and a pocket for necklaces or bracelets
Deluxe Leather Personalized Travel Jewelry Case
PERFECT GIFT GUARANTEE Your personalized gift or home decor item is guaranteed to delight! We'll make sure you're 100% satisfied, or your money back.
Embark on your journey with your precious items in ultimate luxury. This authentic leather case provides an array of clever storage features, ensuring your smallest valuables remain safe, secure and well-organized. A refined accessory indispensable for every woman on the go. Meticulously handcrafted by Royce Leather New York, a family-owned company renowned for using the finest leather and exceptional craftsmanship.

Personalize by adding a 1 to 3 letter monogram in silver, gold or embossed
Crafted from genuine leather with a gray velvet interior
Dimensions: 4-5/8"W x 2-1/8"H x 7.5"L
Interior includes 3 compartments, a dedicated ring section, 3 hooks, and a pocket for necklaces or bracelets