Oval Ceramic Stoneware Personalized Baking Dish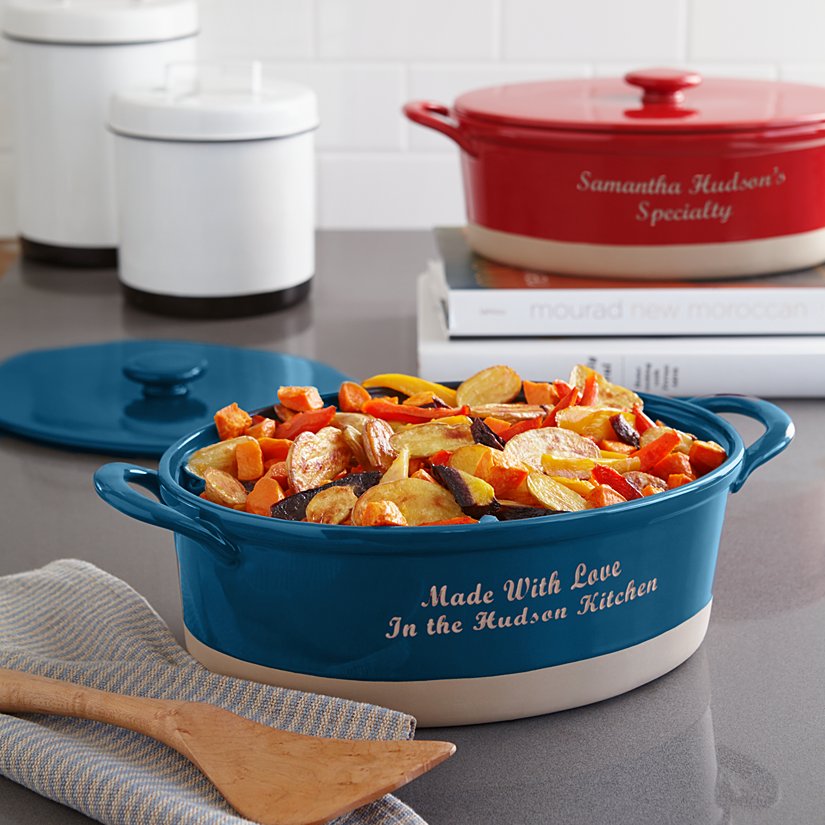 Product Description
A versatile and essential addition to any cook's kitchen, this casserole dish transitions seamlessly from oven to table to potluck gatherings. Our glazed ceramic dish comes in a variety of colors and features a personalized touch, adding a sense of pride to your signature dishes.
Customize with our unique square monogram design + a name up to 8 characters, or any message up to two lines with 25 characters per line
Crafted from high-quality ceramic earthenware
Hand-glazed finish with braised bottom detail
Available in red, teal or blue
Dishwasher, freezer and microwave safe
Oven safe up to 450°F
Not intended for stovetop use
4-quart capacity
Dimensions: 8.6"W x 8.75"H x 14"L
Item is not eligible for gift boxing
Oval Ceramic Stoneware Personalized Baking Dish
PERFECT GIFT GUARANTEE Your personalized gift or home decor item is guaranteed to delight! We'll make sure you're 100% satisfied, or your money back.
A versatile and essential addition to any cook's kitchen, this casserole dish transitions seamlessly from oven to table to potluck gatherings. Our glazed ceramic dish comes in a variety of colors and features a personalized touch, adding a sense of pride to your signature dishes.

Customize with our unique square monogram design + a name up to 8 characters, or any message up to two lines with 25 characters per line
Crafted from high-quality ceramic earthenware
Hand-glazed finish with braised bottom detail
Available in red, teal or blue
Dishwasher, freezer and microwave safe
Oven safe up to 450°F
Not intended for stovetop use
4-quart capacity
Dimensions: 8.6"W x 8.75"H x 14"L
Item is not eligible for gift boxing