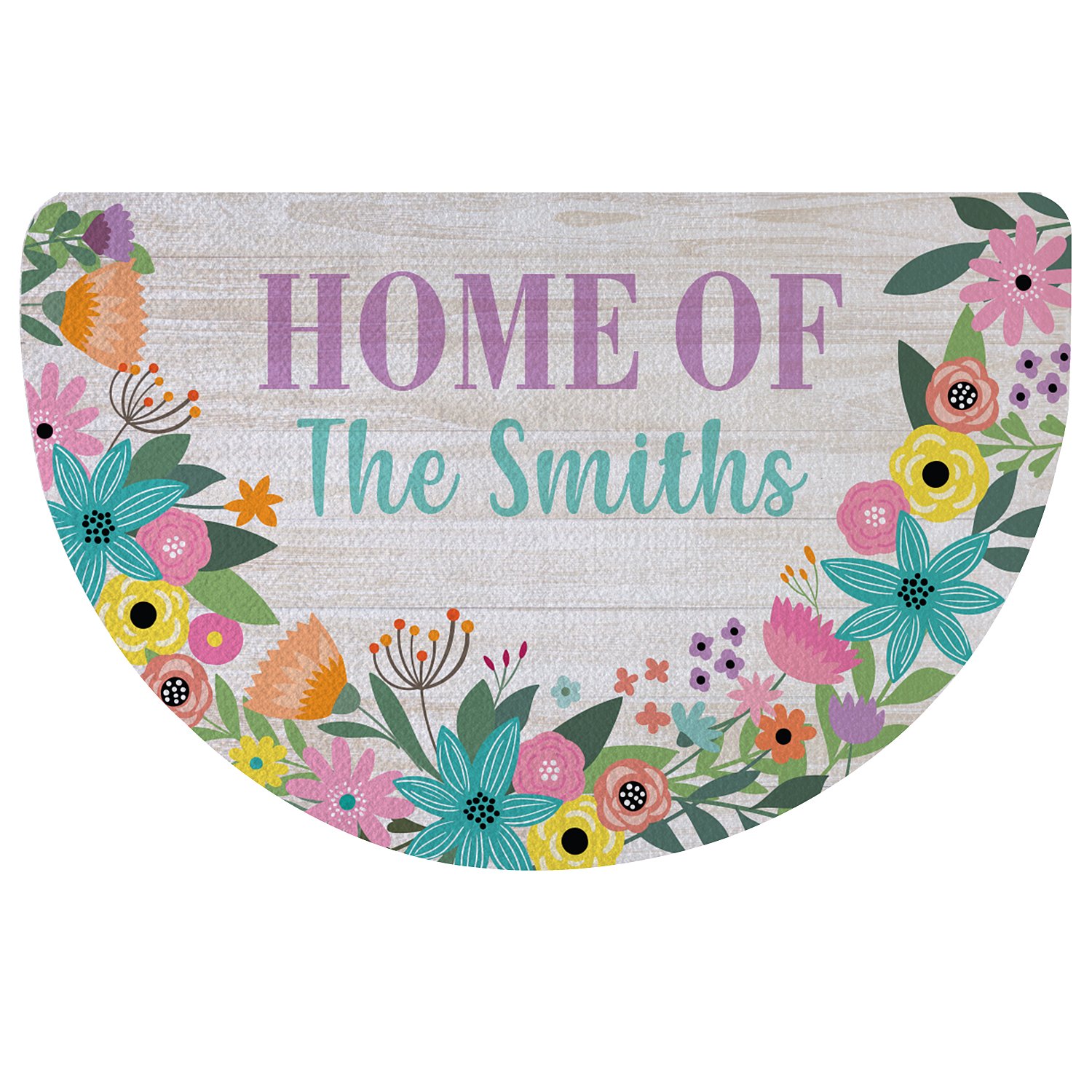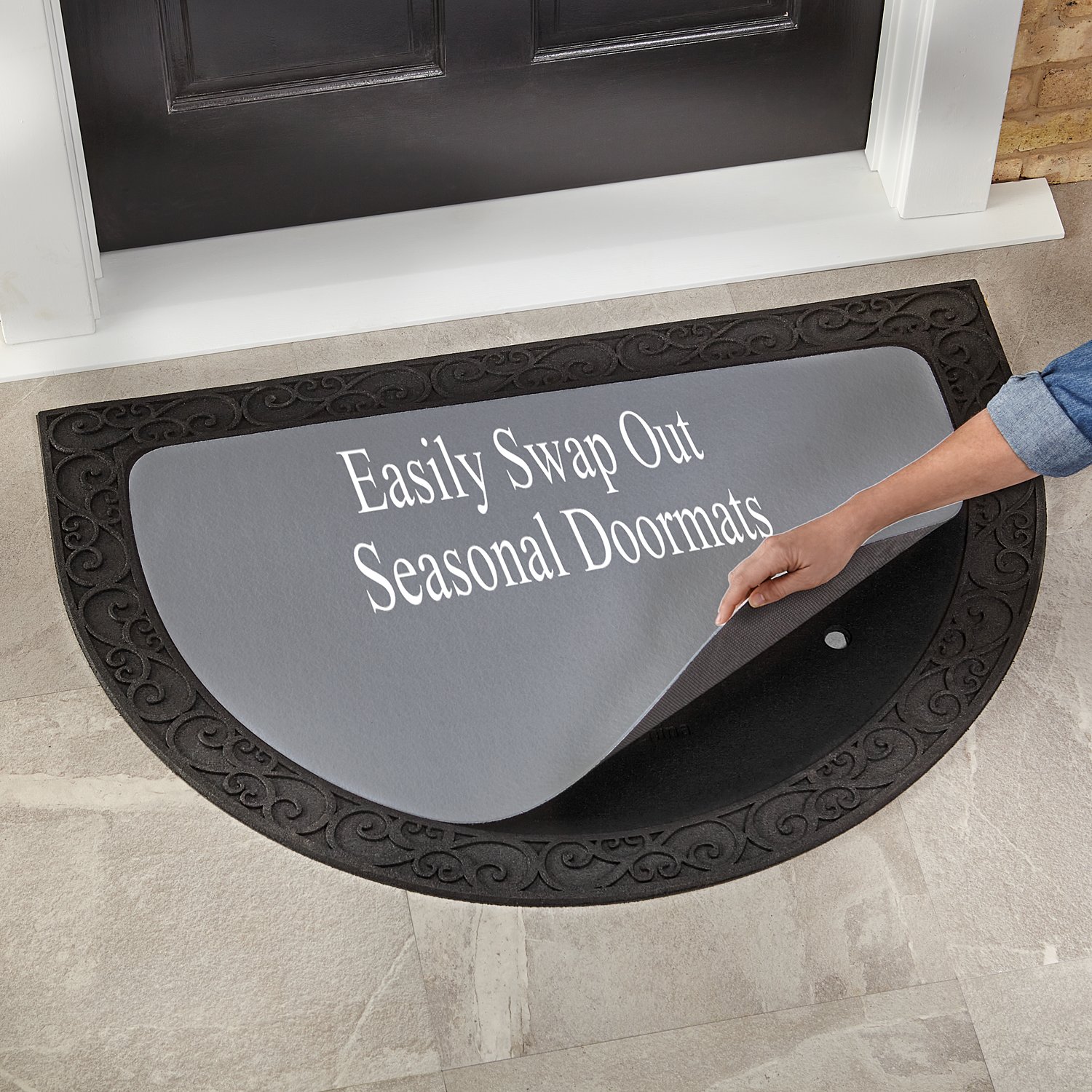 Blossoming Florals Personalized Semi-Circle Doormat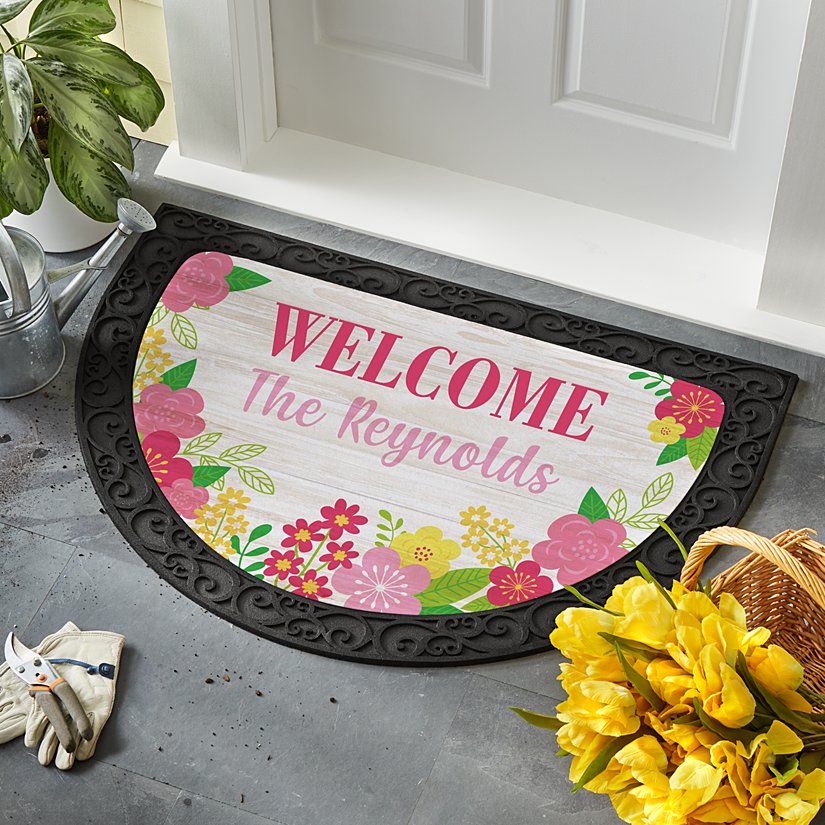 Product Description
Greet your visitors and embrace the spring season with the vibrant florals on this charming doormat. No need for watering!
Personalize with any 2-line message, up to 12 characters on the first line and 18 characters on the second line
Crafted of polyester with a non-slip backing
Doormat holder made from 100% recycled rubber
Doormat dimensions: 22" x 35"; with holder: 30.5" x 42.5" overall
Easy to clean with soap and water
Decorative scrollwork holder features drain holes at the bottom
Weather-resistant, suitable for indoor or outdoor use
Offered in pink/yellow and teal/purple designs
This item cannot be gift boxed
Due to size and packaging requirements, item ships separately from other items in your order and an oversized item fee may apply at checkout
Blossoming Florals Personalized Semi-Circle Doormat
PERFECT GIFT GUARANTEE Your personalized gift or home decor item is guaranteed to delight! We'll make sure you're 100% satisfied, or your money back.
Greet your visitors and embrace the spring season with the vibrant florals on this charming doormat. No need for watering!

Personalize with any 2-line message, up to 12 characters on the first line and 18 characters on the second line
Crafted of polyester with a non-slip backing
Doormat holder made from 100% recycled rubber
Doormat dimensions: 22" x 35"; with holder: 30.5" x 42.5" overall
Easy to clean with soap and water
Decorative scrollwork holder features drain holes at the bottom
Weather-resistant, suitable for indoor or outdoor use
Offered in pink/yellow and teal/purple designs
This item cannot be gift boxed
Due to size and packaging requirements, item ships separately from other items in your order and an oversized item fee may apply at checkout