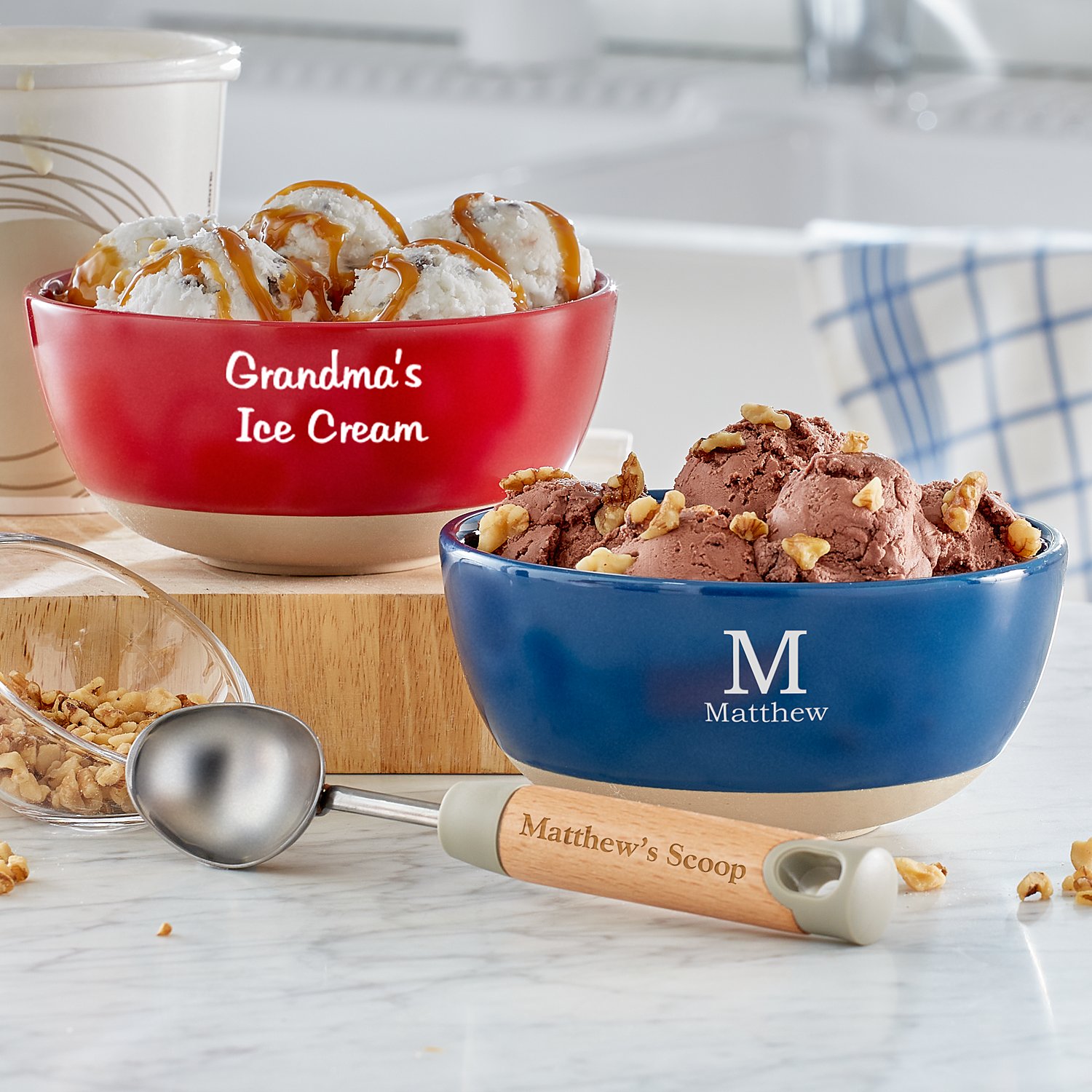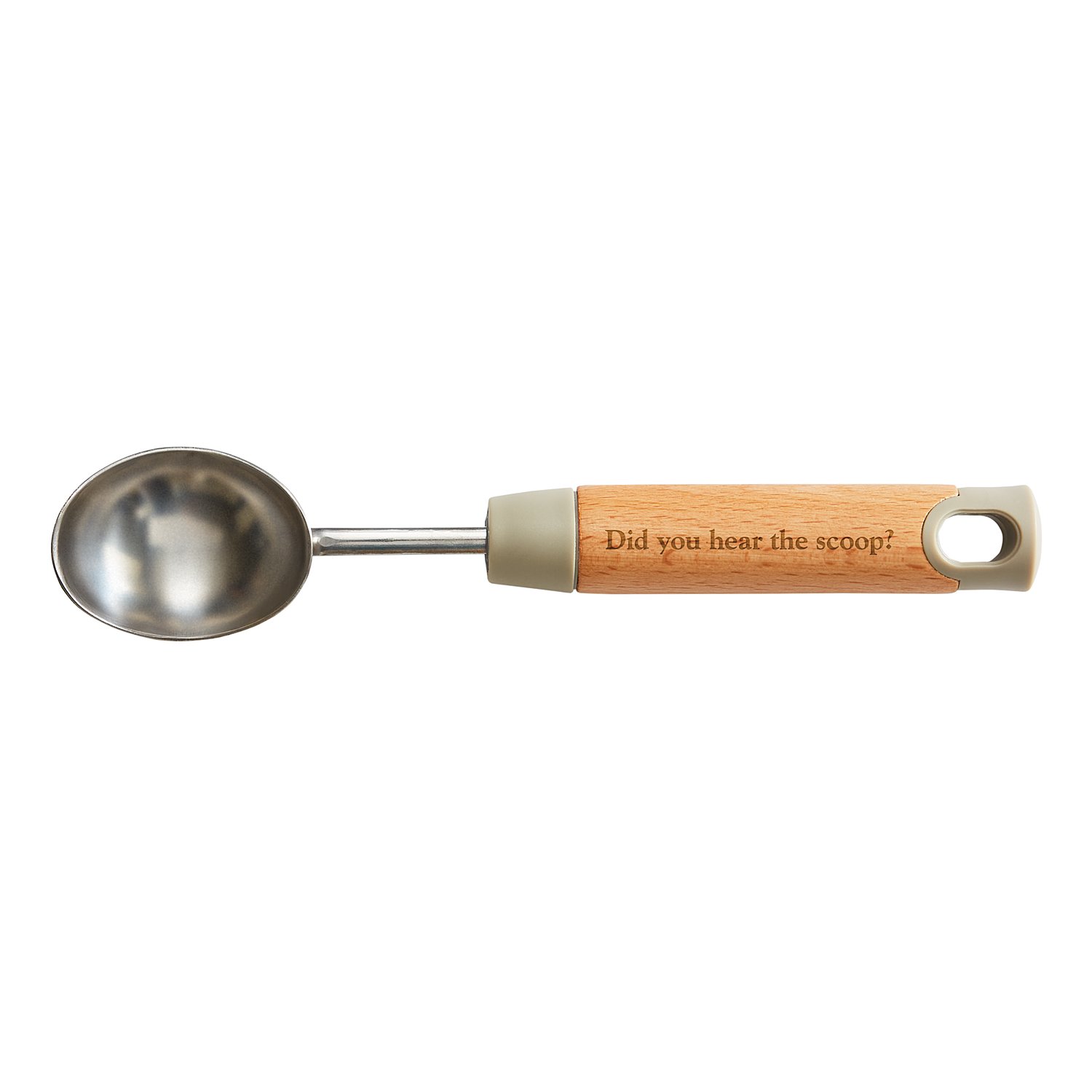 Delightful Ice Cream Personalized Set with Bowl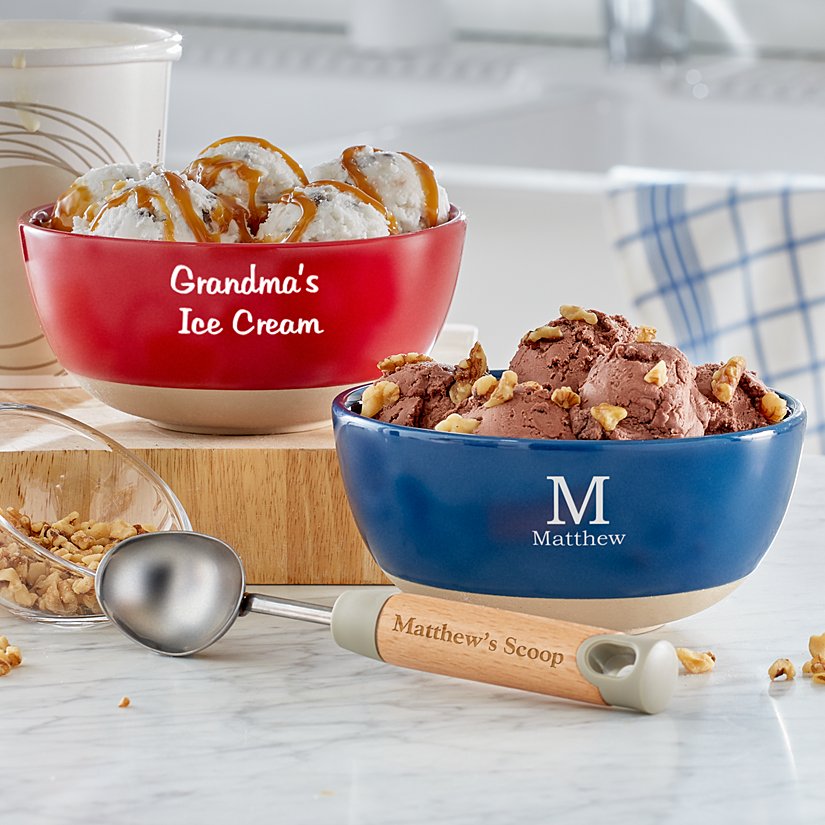 Product Description
Serve up a refreshing helping of joy with this versatile set, perfect for ice cream, cobblers or caramel corn. Fill it with their favorite treats and watch the happiness unfold.
Customize Bowl: Any message design with 1 to 2 lines of text (up to 12 characters each) in script or block font; Name and Initial design with a single initial and name (up to 9 characters)
Customize Ice Cream Scoop with any message (up to 20 characters)
Crafted of stoneware featuring an elegant braised bottom
Dishwasher, freezer, oven and microwave safe
Bowl dimensions: 3"H x 6.5" dia.
Available in Any Message and Name/Initial design in red and blue
Set includes Ice Cream Scoop
Scoop made of stainless steel with a solid beech wood handle
Scoop measures 1"H x 1.7"W x 8.5"L
Hand wash recommended
Delightful Ice Cream Personalized Set with Bowl
PERFECT GIFT GUARANTEE Your personalized gift or home decor item is guaranteed to delight! We'll make sure you're 100% satisfied, or your money back.
Serve up a refreshing helping of joy with this versatile set, perfect for ice cream, cobblers or caramel corn. Fill it with their favorite treats and watch the happiness unfold.

Customize Bowl: Any message design with 1 to 2 lines of text (up to 12 characters each) in script or block font; Name and Initial design with a single initial and name (up to 9 characters)
Customize Ice Cream Scoop with any message (up to 20 characters)
Crafted of stoneware featuring an elegant braised bottom
Dishwasher, freezer, oven and microwave safe
Bowl dimensions: 3"H x 6.5" dia.
Available in Any Message and Name/Initial design in red and blue
Set includes Ice Cream Scoop
Scoop made of stainless steel with a solid beech wood handle
Scoop measures 1"H x 1.7"W x 8.5"L
Hand wash recommended