Wireless Charging Personalized Organizer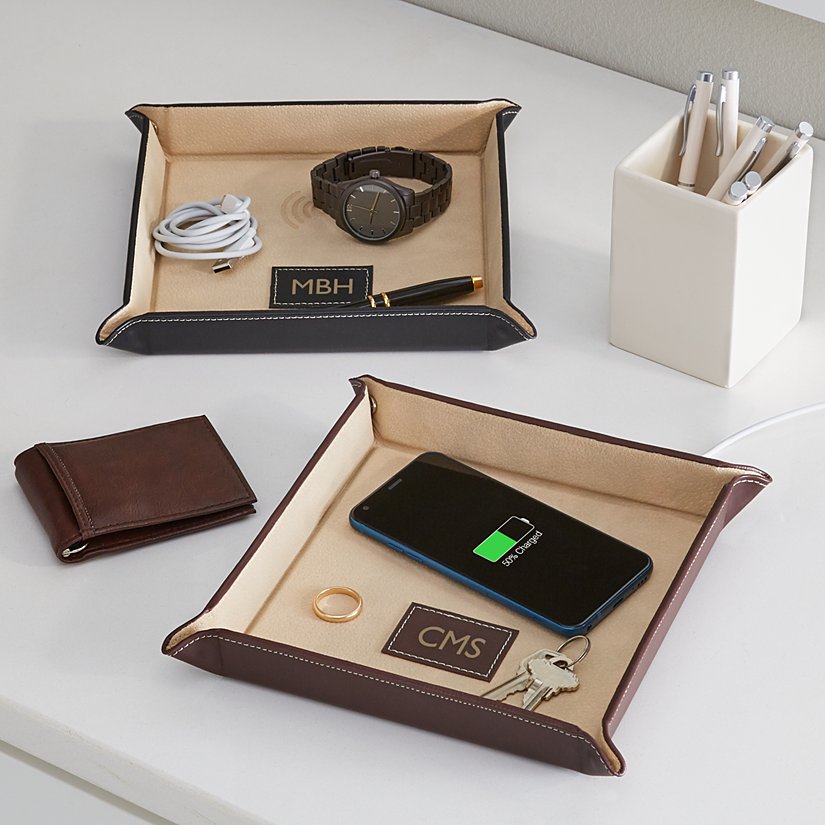 Product Description
Our elegant leather organizer not only charges your phone wirelessly but also offers a place to keep keys, coins and other small items. Simply connect the provided cord to the organizer and a wall socket, then place your phone over the charging symbol. Perfect for both travel and home use.
Personalize by adding a 1 to 3 letter monogram
Crafted from premium leather
Features side snaps for easy packing
Measures 1"H x 10" sq.
Includes wireless charging pad and USB cord; Adapter not included
To charge, remove the phone case and place the back of the phone on top of the wireless symbol
USB cord must be connected to the charger pad and a power source (e.g., computer, outlet) for wireless charging
Available in black and brown
Wireless Charging Personalized Organizer
PERFECT GIFT GUARANTEE Your personalized gift or home decor item is guaranteed to delight! We'll make sure you're 100% satisfied, or your money back.
Our elegant leather organizer not only charges your phone wirelessly but also offers a place to keep keys, coins and other small items. Simply connect the provided cord to the organizer and a wall socket, then place your phone over the charging symbol. Perfect for both travel and home use.

Personalize by adding a 1 to 3 letter monogram
Crafted from premium leather
Features side snaps for easy packing
Measures 1"H x 10" sq.
Includes wireless charging pad and USB cord; Adapter not included
To charge, remove the phone case and place the back of the phone on top of the wireless symbol
USB cord must be connected to the charger pad and a power source (e.g., computer, outlet) for wireless charging
Available in black and brown